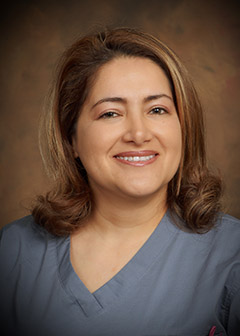 Evelyn Ehrhardt (Dental Hygienist)
Evelyn was raised in Quito – Ecuador, where she obtained her bachelor in Business Administration with Cum Laude. Her love for the dental profession began in 2004 when she got married with Dr. Ehrhardt. Soon after getting married she enrolled in Fresno College and later in Cypress College, where she was able to fulfill her dream of becoming a Registered Dental Hygienist. At Cypress College she received the Clinician Dedication Special Needs Patients Award. She won the First Place for Research Poster and Presentation at The American Dental Hygienist Association, and she received an award from the Hispanic Dental Association. For Evelyn, having the business administration and dental hygiene backgrounds is a great combination to bring her best to Iowa Park Dental.
Evelyn has a passion for providing excellent patient care and believes that patient education is key in the prevention of oral disease. She is passionate about serving others and has participated in heath campaigns with Lions International, Healthy Smiles for Kids of Orange County, CDA Cares and Team Smile, which have brought fullness to her life. Evelyn likes cooking, eating nutritious foods and living a healthy lifestyle. She enjoys spending time with her husband, Dr. Ehrhardt, and their dog, Sophie.