Donita Hill (Dental Hygienist)
Donita grew up in DeSoto, Texas, and started her dental career as a Chairside Dental Assistant in Dallas, TX. After marrying her husband, Rocky, they moved their family to Northern, California where she attended Dental Hygiene School at Shasta College, in Redding, CA.
While in Northern CA, Donita worked with the Indian Health Service (IHS), providing dental services to the Native American and Non-Native, underserved population, in her community. She was also one of twenty participants, chosen Nationwide by The American Dental Association (ADA), to participate in their 18 months CDHC Program with the didactic and clinical classes conducted by Rio Salado College, Tempe Arizona, and the University of California Los Angeles.
Donita and Rocky moved back to Texas in 2013, settling in the Wichita Falls area. Family is important to Donita and she enjoys spending her time making memories with her parents, siblings, children, and grandchildren, with activities such as fishing, hiking, camping, and bike riding. Donita has ridden in our local Hotter N Hell 100 bike race and has future plans to ride again, with her grandchildren.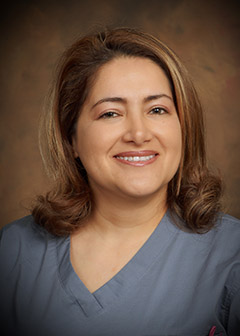 Evelyn Ehrhardt (Dental Hygienist)
Evelyn was raised in Quito – Ecuador, where she obtained her bachelor in Business Administration with Cum Laude. Her love for the dental profession began in 2004 when she got married with Dr. Ehrhardt. Soon after getting married she enrolled in Fresno College and later in Cypress College, where she was able to fulfill her dream of becoming a Registered Dental Hygienist. At Cypress College she received the Clinician Dedication Special Needs Patients Award. She won the First Place for Research Poster and Presentation at The American Dental Hygienist Association, and she received an award from the Hispanic Dental Association. For Evelyn, having the business administration and dental hygiene backgrounds is a great combination to bring her best to Iowa Park Dental.
Evelyn has a passion for providing excellent patient care and believes that patient education is key in the prevention of oral disease. She is passionate about serving others and has participated in heath campaigns with Lions International, Healthy Smiles for Kids of Orange County, CDA Cares and Team Smile, which have brought fullness to her life. Evelyn likes cooking, eating nutritious foods and living a healthy lifestyle. She enjoys spending time with her husband, Dr. Ehrhardt, and their dog, Benny.
Meagan Mardis- Insurance (Treatment Plan Coordinator)
Meagan grew up in Holliday, Tx and attended Vernon College for Dental Assisting in 2018. Meagan's mom was also a dental assistant/office manager for many years; which is what sparked her interest in becoming a dental assistant. Meagan joined our team in 2020. She has worked her way from an assistant to our Insurance Coordinator. She helps our patients understand their dental insurance benefits and works with them to apply those benefits to their proposed treatment plans.
Meagan and her husband Josh, have two daughters and two dogs. They fell in love with the Iowa Park community and decided to plant their roots here. In her spare time, she enjoys spending time with her family and friends.  She enjoys making road trips anywhere to visit new places or see family. She also has a passion for photography, and can usually be found with a camera in hand.