4 Reasons a Pediatric Dentist Could be a Good Dental Care Choice for Your Child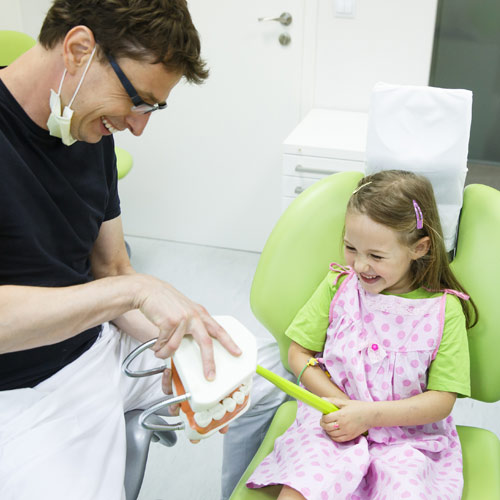 At no other time in life do the teeth, jaws and facial structures grow as rapidly as between birth and early adulthood. That's why it may be beneficial for your child to see a pediatric dentist. This dental professional specializes in oral care for children and adolescents with advanced knowledge in childhood dental issues and how they may relate to their general health.
Here are 4 reasons why a pediatric dentist could be the right choice for your child's oral care.
They provide knowledgeable care through every phase of childhood development. In the space of just ten to twelve years, your child will have experienced the arrival and departure of their primary ("baby") teeth and the coming in of their permanent teeth. While this process is normal, there are a number of possible complications like impacted wisdom or front canine teeth that can affect their future bite and appearance. Pediatric dentists are familiar with developmental patterns and can detect when something is amiss.
They have the techniques to treat childhood-related decay. Children are as much or more susceptible to tooth decay as adults — and the consequences of it in primary teeth especially can affect their dental health well into adulthood. Pediatric dentists are well skilled in techniques like dental sealants, fluoride applications or modified root canal treatments that can help prolong primary teeth to their full lifespan.
Their clinics are "kid-friendly." Dental offices can be daunting places for young children. Pediatric dental clinics are designed to help alleviate their fears with waiting and exam rooms that are bright and cheerful and filled with designs and activities that are appealing to children. More importantly, pediatric dentists and their staff are trained and skilled in relating to children and making them feel more at ease.
They can advise you on the proper home care for your child's teeth. Good oral hygiene begins when the first teeth erupt in your baby's mouth, between 6 months and a year. Pediatric dentists and their staff can help guide you in proper techniques for brushing and later flossing. They can also advise you on practices that could affect your child's dental health, like night-time sugary "sippy" cup drinking or the spread of oral bacteria through mouth to mouth kissing.