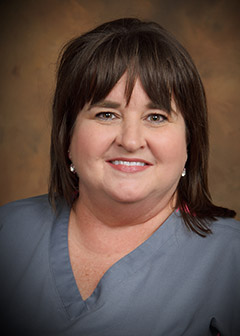 Staci (Dental Hygienist)
Staci was born and raised in Wichita Falls where she has spent the majority of her life. She graduated from Midwestern State University with an Associate of Science in Dental Hygiene. Since graduation she has worked in different areas in the dental field including orthodontics, periodontics, endodontics, oral surgery, general family practice and cosmetic dentistry.
Love and the Air Force moved her to Williams AFB in Chandler, Arizona in 1987 where she lived for the next 5 years. While in Arizona she worked in a dental specialty clinic, initially as a receptionist scheduling for seven different doctors in four different fields of dentistry. After a year she was promoted to office manager, overseeing the seven doctors and their staffs as well as planning and holding the monthly board and shareholders' meeting. She continued to hold that position until they were stationed back to Sheppard AFB. At the time she thought it was the worst thing that could happen, but time has a way of making you see that everything happens for a reason. She later realized that being back home in Texas was where she needed to be.
Staci loves her job as a dental hygienist and volunteers for Texas and Oklahoma Missions of Mercy. She has completed additional training in cosmetic dentistry at the Las Vegas Institute. She enjoys watching sports, especially basketball. Her son and Tim Duncan are her favorite players. She loves warm weather and working in her yard. She also loves everything about Christmas, except the cold.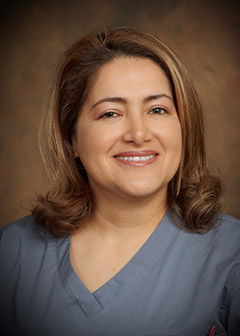 Evelyn Ehrhardt (Dental Hygienist)
Evelyn was raised in Quito – Ecuador, where she obtained her bachelor in Business Administration with Cum Laude. Her love for the dental profession began in 2004 when she got married with Dr. Ehrhardt. Soon after getting married she enrolled in Fresno College and later in Cypress College, where she was able to fulfill her dream of becoming a Registered Dental Hygienist. At Cypress College she received the Clinician Dedication Special Needs Patients Award. She won the First Place for Research Poster and Presentation at The American Dental Hygienist Association, and she received an award from the Hispanic Dental Association. For Evelyn, having the business administration and dental hygiene backgrounds is a great combination to bring her best to Iowa Park Dental.
Evelyn has a passion for providing excellent patient care and believes that patient education is key in the prevention of oral disease. She is passionate about serving others and has participated in heath campaigns with Lions International, Healthy Smiles for Kids of Orange County, CDA Cares and Team Smile, which have brought fullness to her life. Evelyn likes cooking, eating nutritious foods and living a healthy lifestyle. She enjoys spending time with her husband, Dr. Ehrhardt, and their dog, Sophie.